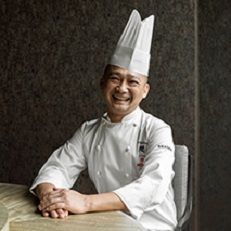 Chef Hung Chi-Kwong
Executive Chinese Chef
Chef Hung Chi-Kwong
Executive Chinese Chef
Executive Chinese chef Hung Chi-Kwong of two-MICHELIN-starred Cantonese restaurant Rùn was born and raised in Hong Kong. Renowned for developing his own unique mastery and contemporary interpretations of the rich gastronomy of Cantonese cuisine. His passion and culinary highlights include braised dried foods, seafood, and double-boiled nourishing soups. He is dedicated to experimenting with new ingredients in combination with traditional cuisine in order to create new food flavors for guests.
Drawing on over 34 years of experience in developing mastery in Cantonese classic dishes, Chef Hung's previous executive experience includes the Mandarin Oriental Hong Kong's MICHELIN-starred Cantonese Man Wah restaurant, Cuisine Cuisine at The Mira as Chef de Cuisine, appointed from his position as Chinese Sous Chef in 2014 and Cantonese-fusion restaurant Nanhai No 1.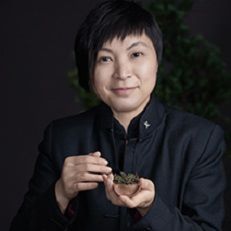 Kezia Chan
Tea Master & Restaurant Manager
Kezia Chan
Tea Master & Restaurant Manager
Kezia has been specialising in chayi, or the art of tea, for more than 20 years. She has been certified as a professional tea master by the International Tea Masters Association (ITMA), and is also a trained wine taster. As Rùn's resident tea expert and buyer, she gives customers recommendations for tea pairing by fusing her knowledge of tea and wine to introduce tea in a refreshing new way.
When introducing the provenance of Pu'er teas, for instance, Kezia likes to draw parallels to the appellation system for wines such as champagne, where only those produced in Yunnan are called Pu'er, whilst the others are generally called black tea. Such easy-to-digest titbits give diners, particularly those new to Chinese culture and tea appreciation, a deeper impression of the tea they are enjoying.